The Making of Warlords (Teaser #2)
While we prepare new gameplay previews for the coming weeks, today we're releasing a second short 'Making Of Stronghold: Warlords' teaser video. Today's preview discusses voice acting and the fine balancing act between historical authenticity, great performances and our Stronghold-style humour. In addition to planned support for 15 languages, we also made the decision quite early on to support audio in eight languages, as well as snippets of other languages for specific units. Music and sound design are so important to the Stronghold series that it felt necessary to include in the game and we hope it's something enjoyed by players worldwide at launch!
Available at launch as part of Stronghold: Warlords – Special Edition, this feature-length documentary takes a look behind the scenes with over two years of game development at Firefly Studios. Unpacking the complex process of creating a modern strategy/sim hybrid on PC, the documentary is designed to provide insight into these unique genres for those curious about their creation.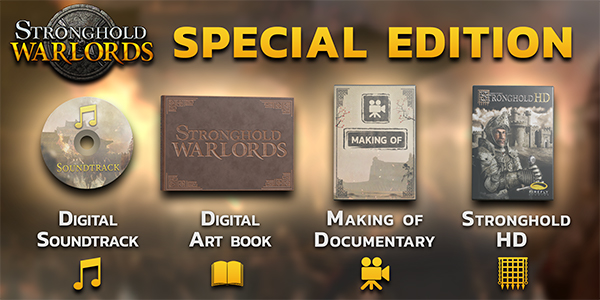 The Special Edition will be available at launch on Steam for $49.99, £34.99 and €39.99, with the base game also available without the above extras for $39.99, £29.99 and €34.99.