The Making of Warlords (Teaser #1)
Today we have a short and sweet video for you in the form of our first 'Teaser' for the 'Making Of Stronghold: Warlords' documentary. Available at launch as part of Warlord's Special Edition, this feature-length documentary takes a look behind the scenes with over two years of game development at Firefly Studios. Charting the course of Warlords' development from production to reveal and eventually release, Firefly's very own Aaron Hayden takes viewers through each aspect of game production.
Unpacking the complex process of creating a modern strategy/sim hybrid on PC, the documentary is designed to provide insight into these unique genres for those curious about their creation. This teaser provides a glimpse of our concept, writing and research for the game. These building blocks form the basis of our design for a new Stronghold title and Warlords' new setting provided fertile ground for both our gameplay and historical goals!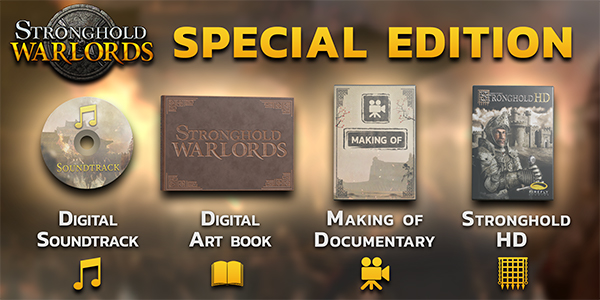 The Special Edition will be available at launch on Steam for $49.99, £34.99 and €39.99, with the base game also available without the above extras for $39.99, £29.99 and €34.99.