The Making of Warlords (Teaser #3)
While new gameplay footage is coming later this week, today we're releasing our third and final 'Making Of Stronghold: Warlords' teaser. Today's video is centred around the reveal of Stronghold: Warlords, which took place way back in June 2019. Featuring a snippet of what you can expect from the full documentary at launch, this quick look shows Paul and Simon discussing what goes into revealing a game to the press, as well as including a few behind the scenes E3 clips!
Available at launch as part of Stronghold: Warlords – Special Edition, this feature-length documentary takes a look behind the scenes with over two years of game development at Firefly Studios. Unpacking the complex process of creating a modern strategy/sim hybrid on PC, the documentary is designed to provide insight into these unique genres for those curious about their creation.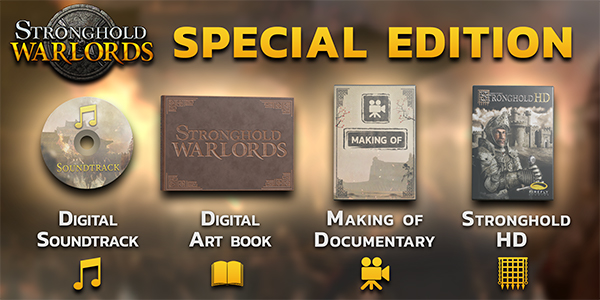 The Special Edition will be available at launch on Steam for $49.99, £34.99 and €39.99, with the base game also available without the above extras for $39.99, £29.99 and €34.99.